Bangladesh will increase liquefied natural gas (LNG) import by around 25 per cent in December compared to its November and October imports respectively to feed growing demand for natural gas in industries, despite financial tightening.
The government will import a total of five LNG cargoes from long-term suppliers during December against its import of four LNG cargoes each during October and November, says a senior official of the state-run Petrobangla.
Fed on the higher imports, the quantity of re-gasified LNG will increase to around 460 million cubic feet per day (mmcfd) from the current 380mmcfd.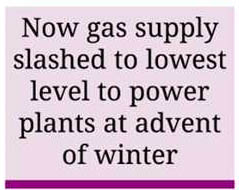 "We shall be importing more LNG cargoes as per the annual delivery programme (ADP) as set with the suppliers," he says.
Increased LNG imports will boost the country's overall natural gas output and satisfy the country's business communities who have been in a crying need for augmented overall natural-gas supply to keep their factories operational, the official hopes.
In a desperate bid for getting more gas--in the wake of fuel shortage amid the current crunch-- businessmen recently had proposed to pay higher gas tariffs to the government if imported at higher prices from the volatile global market.
President of Bangladesh Textile Mills Association (BTMA) Mohammad Ali Khokon, in a press briefing couple of weeks back, expressed the millers' readiness to pay higher for industrial gas.
Member-mills of the association are the biggest consumers of gas among industries, who use around 16.62 per cent of the total gas consumed in the country, according to official data.
It will also help increase natural gas pressure for other consumers, too, including households, he assures.
Since last week, Bangladesh, however, has scaled down gas supply to power plants to feed industries with more gas out of growing concern that production squeeze would have on supplies on the already-overheated domestic market and on export which is the largest source for the country's foreign-exchange reserves.
The state-run Petrobangla has cut down the gas supply to the lowest level to power plants amid the oncoming winter season compared to the winter seasons of the previous years, official data revealed.
Although a number of new gas-fired power plants have come up over past several years, the natural-gas supply to power plants now came down to around 24 per cent or 258mmcfd compared to the same period three years back.
The petroleum agency supplied around 815 mmcfd of natural gas to power plants, around one-third of the total requirement of around 2,252mmcfd, as on November 9, 2022.
A total of 30 power plants having the total generation capacity of around 4,000 megawatts were shut down as a consequence of the crunch that led the government authorities to enforce load-shedding in high summer.
On November 9, 2021, Petrobangla had provided around 989mmcfd gas to power plants against the similar demand for around 2,252mmcfd when some 25 power plants were shut due to gas shortage.
On November 9, 2020, it had supplied around 1,073 mmcfd of gas to power plants against the demand for around 2,196mmcfd when a total of 18 power plants were laid to rest.
"We have squeezed natural gas supplies to power plants so that industrial consumers get more gas," says Petrobangla chairman Nazmul Ahsan.
Bangladesh's LNG re-gasification as on November 18, 2022 dipped to the lowest as the country's both the floating LNG-import terminals re-gasified around 380mmcfd, which accounts for only 38 per cent of their aggregate re-gasification capacity.
This is the lowest level of LNG re-gasification with both the floating, storage and re-gasification units, or FSRUs, being operational.
Bangladesh's overall natural gas output stands at around 2,582mmcfd, as of November 18, 2022, including 380 mmcfd of re-gasified LNG, against the demand for around 4,000mmcfd.
Overall electricity generation fell to around 9,141MW during day peak hours as on November 17, 2022 from above 13,500 MWs during peak summer.
Electricity generation during evening peak hours was around 10,559MW as on November 17, 2022.