Mosquito control efforts in the capital ahead of the dengue season have been marred by rundown insecticide sprays and a shortage of skilled workforce.
As the monsoon approaches, the cases of dengue are gradually increasing in different parts of the city despite programmes of the authorities of the bifurcated Dhaka City Corporation to kill mosquitoes and larvae.
A recent survey by the Directorate General of Health Services (DGHS) found Dhaka at risk of a dengue outbreak this year due to higher presence of Aedes larvae in stagnant water compared to the last couple of years.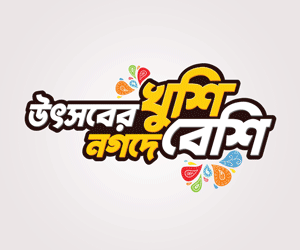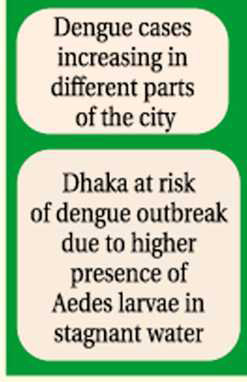 Both the city authorities -- Dhaka North City Corporation (DNCC) and Dhaka South City Corporation (DSCC) -- have claimed that they are working relentlessly to curb any possible outbreak of dengue. But city-dwellers said the mosquito control activities were irregular.
Harunur Rashid, a house owner of South Baridhara Residential Area (DIT Project) in Merul Badda under Ward-21 of DNCC, said the city corporation was supposed to spray insecticide twice a week but in recent months they were barely seen doing their work.
He said, "It is true that mosquito killing activities have increased in last couple of years, but if the city corporation does not take appropriate measures before the monsoon starts, it would be difficult to fight the bloodsuckers."
Talking to the FE, a spray-man responsible to spray larvicide and adulticide in different areas of Ward-21, said, "We currently don't have enough spray-men or crew to cover all the areas, so we are taking turns to do our duties in all areas."
He also said contractual spray-men and crew consist of over half the workforce that are engaged in mosquito killing but those daily contract-based workers were not available for doing the job in the last three-four months.
Besides, many of the fogger machines meant for spraying adulticide and hand-pumped machines for larvicide spray were broken or were not functioning properly that slowed down the drive, he said.
However, Dr SM Wasimul Islam, assistant health officer for Zone-5 of 'Mosquito Control Action Plan' of DNCC, said they have 14 to 15 spray-men and crew, 10 are outsourced, per ward to spray mosquito repellents.
While asked about broken and outdated fogger and hand-pumped machines that were piled up carelessly under the open sky in front of the Zone-5 office in the city's Karwan Bazar, he said, "Those machines account for a small number and they need to get fixed at the Bangladesh Agricultural Research Institute (BARI) workshop in Joydebpur of Gazipur."
The DNCC divided its 54 wards into five zones under the 'Mosquito Control Action Plan'. They are -- Zone-1 (Uttara) that covers wards 01 and 17, Zone-2 (Mirpur) covering wards 02 to 08, and 15, Zone-3 (Mohakhali) covering wards 18 to 25, 35 and 36, Zone-4 (Mirpur) comprising wards 09 to 14, and 16, and Zone-5 (Karwan Bazar) covering wards 26 to 34.
There are 18 more wards of DNCC which are under the process of being included in new zones.
DSCC has 75 wards which were divided into 10 zones -- Zone-1 with wards 15-21, Zone-2 with wards 01-06 and 08-13, Zone-3 covering wards 14, 22-29, and 55-57, Zone-4 with wards 30-38, 42, and 43, Zone-5 with wards 07, 39-41, and 44-54, Zone-6 with wards 73-75, Zone-7 with wards 71 and 72, Zone-8 with wards 67-70, Zone-9 with wards 62-66, and Zone-10 with wards 58-61.
As per the inventory of DSCC, there are about 965 spraying machines in DSCC, of which 450 are hand-pumped, 464 are automatic fogger machines and 51 are wheelbarrows.
There are a total of 1,149 machines under DNCC's mosquito killing operation, of which 612 are hand-pumped, 525 are foggers, and 12 are wheelbarrows.
However, sources at both the city corporations said at least a half of these machines were either broken or their service period expired.
The hand-pumped machines are used to spray larvicide between 9:00am and 11:00am to destroy mosquito larvae, fogger machines spray adulticide to kill adult mosquitoes one hour before the sunset and one hour after the sunset, and wheelbarrows are used to spray insecticide in large water bodies to kill Culex mosquitoes.
Besides, both the city corporations apply Novaluron tablets in stagnant water in under-construction buildings to contain the growth of larvae of Aedes mosquitoes responsible for spreading the dengue fever.
A DGHS survey, conducted between March 23 and April 04, found three DSCC wards at 'high risk' and 10 at 'medium risk' of dengue outbreak while nine wards in the DNCC are at medium risk.
The DGHS team found excessive amounts of Aedes larvae in at least 42.11 per cent of the under-construction buildings surveyed while 31.58 per cent of the surveyed high-rise buildings were at risk of turning into Aedes breeding ground.
In 2019, the larvae in plastic drums, as the surveillance of DGHS found, was 11.43 per cent. In 2022, the amount of aedes larvae more than doubled to 23.98 per cent, the survey showed.
According to DGHS data, a total of 289 dengue patients were hospitalised across the country till May 26 against 28,429 in 2021 and 1,405 in 2020.
Compared to last April, dengue cases as of May 26 increased to 100 from 23, showing 334.78 per cent rise, data showed.
However, no death was registered so far in the country this year.