The government will soon start countrywide crackdown against all unregistered private hospitals, clinics and diagnostic centres as the 72-hour ultimatum will expire today (Sunday).
Issuing the ultimatum after a meeting on Wednesday last, the state-run Director General of Health Services (DGHS) ordered authorities of the non-compliant healthcare facilities to shut down their units within the deadline to avert stern action.
"If the unauthorised healthcare units do not shut the services, they will very soon conduct drives against them with tougher action," DGHS director (hospital and clinic) Dr Md Belal Hossain told the journalists on Saturday.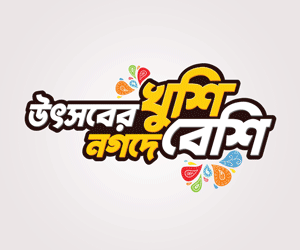 He said they will sit to discuss about the progress soon after the deadline got expired and would analyse how many shut and how many do not.
After that, the civil surgeons and other officials concerned would conduct the drive across the country. "We want to ensure compliance in the healthcare services," he added.
When asked about the number of unregistered hospitals, clinics and diagnostic centres, Mr Hossain said they don't have the statistics. They have only figures of haw many applied for registration and renewal and the number of registered ones.
"But the civil surgeons have the list of licensed ones and they would conduct the drives based on that," he said, adding that deputy commissioners (DC) and civil surgeons are already conducting raids in various locations.
The list of illegal healthcare facilities will be collected from them (DCs and civil surgeons). "We will scrutinise and examine everything. Necessary measures will be taken from Sunday," the DGHS director said.
According to the DGHS, the organisations which have been registered but the registration has not been renewed will be given a fixed time for renewal, exceeding which will lead to shut down of those organisations as well.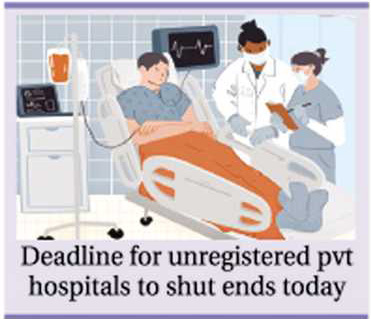 The directorate also asked authorities to take action against those who provide anaesthesia during surgery without a licence and appoint unregistered physicians in the operation theatres.
According to bdnews24.com, The government has shut down 23 clinics and diagnostic centres in four districts for running business without authorisation.
Authorities also fined them and some other private health facilities on Saturday for breaching rules.
Among the shutdown facilities, nine were in Habiganj, seven in Magura, four in Tangail and three others in Chuadanga, said the Directorate General of Health Services and local administrations on Saturday.
In Madhabpur and Chunarughat Upazilas of Habiganj, five diagnostic centres failed to present authorisation documents, prompting the Upazila authorities to close them down.
Madhabpur Upazila Nirbahi Officer or UNO Sheikh Moinul Islam led the drive at the municipality and shut down Sheba Diagnostic, Apollo Diagnostic, Haque Diagnostic, Prime Diagnostic and Titas Children General Hospital.
Authorities also shut Chunarughat's People's Hospital, NK Hospital, Surjer Alo Clinic and Green Line Clinic.
In Magura, the local Health Division office shut down Rokeya Private Hospital, Ekota Clinic and Nursing Home, Niramoy Private Hospital, Rifat Pharmacy, Shahana Medical Services. Auro Dental Care and Sikhi Neelganj Project.
Shahidullah Dewan, the district's civil surgeon, said authorities were conducting the drives following a list created on the health directorate's instruction.
In Chuadanga, Upazila Health and Family Planning officer Dr Awliar Rahman led a drive to seal off and fine clinics and diagnostic centres that were unable to present proper documents.
After visiting 25 facilities, authorities sealed off Central Medical Centre, Sono Diagnostic Centre and Chuadanga Ultrasonography Centre. They also warned Islami Diagnostic Centre and Tisa Diagnostic Centre for not updating documents.
Awliar said staff of several facilities sensed trouble and locked up their clinics and diagnostic centres before fleeing. Authorities marked these organisations for future assessment.
Tangail Sadar UNO Ranuara Khatun said the clinics shut off there are Swadesh Clinic and Diagnostic Centre, Padma Clinic and Amanat Clinic, Hospital and Digilab.
Local administration also picked up complaints against three facilities for serving patients in unhealthy environments. Among them are - the City Clinic, which was fined Tk 20,000, Comfort Hospital and Digilab Clinic, each of which was fined Tk 30,000.
On Thursday, the DGHS asked local authorities to shut down unlicenced clinics and diagnostic centres within three days.