Prime Minister Sheikh Hasina on Sunday said her government is developing the country in a planned manner from the grassroots.
"My party Awami League has given priority to the development of rural areas of the country as desired development is not possible leaving the grass root people behind," she said.
The premier came up with the statement while receiving "Azizul Haque Polli Unnayan Padak-2021" (Azizul Haque Rural Development Award-2021) from CIRDAP Director-General Dr Cherdsak Virapat at a ceremony at Ganabhaban, reports UNB.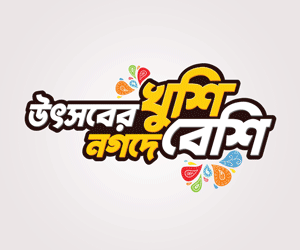 The Bangladesh-based Centre on Integrated Rural Development for Asia and the Pacific (CIRDAP) has honoured the prime minister with the award in recognition of her contribution to rural development.
Hasina said that the country would achieve desired development and prosperity once rural development is ensured.
She said the Awami League had undertaken the necessary plan even when it was outside the state power and that is why after coming to power, it has been able to take the country ahead by working as per its plan.
Pointing out the "Amar Bari Amar Khamar" (My Home, My Farm) project, the PM said, her brainchild project helped create employment opportunities for the unemployed poor people and thereby ensured their socio-economic development.
She mentioned about the digital centre that stated in a remote area named Char Kukri Mukri.
She also said that her government is now implementing the programme My Home, My Farm to ensure the rural people could stand on their own feet and create employment opportunities for others.
She mentioned about the community clinics for providing healthcare facilities to the doorsteps of the rural people.
She also elaborated on various achievements of her government including the establishment of digital Bangladesh, setting up at least one educational institution within two kilometres of a locality, and reaching health care services at the doorsteps of the people.
"To ensure education for all the government is establishing one primary school in every two kilometres so that children could go to the school walking on their feet," she said.
The PM said, following the footsteps of the Father of the Nation, her government has made education free for every citizen, and provided stipends and sub-stipends to the students as well as other support for them.
She mentioned that the government has also ensured safe drinking water and standard sanitation facilities for the rural people as well as other basic needs including health care, education and housing.
"We are almost reaching cent per cent sanitation and pure drinking water."
Hasina said the poor homeless people are being provided with houses and they can find employment, while the government has been giving various allowances to the poor distressed people for maintaining their livelihoods.
The premier thanked the CIRDAP and its board of Directors for honouring her with the award which she dedicated to the people of Bangladesh.
"I think the people of Bangladesh are the recipient of this award and I am dedicating this to them," she said.